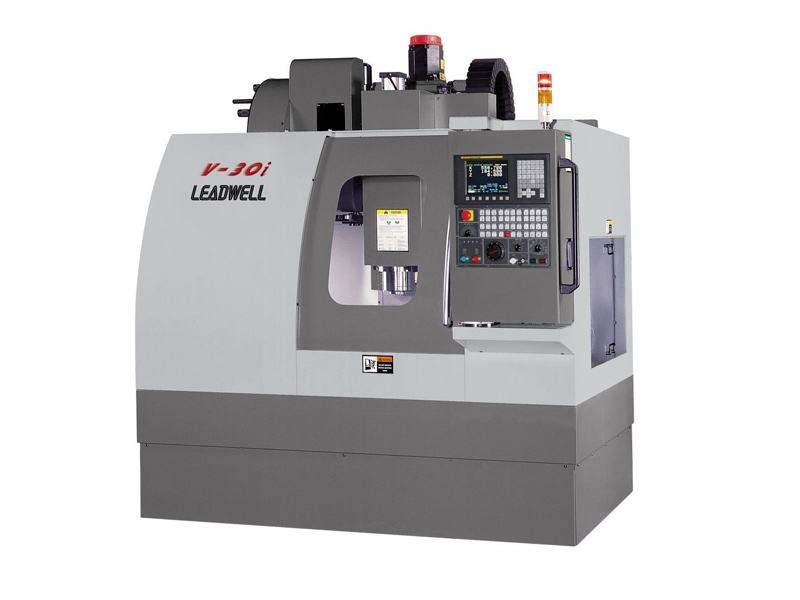 Leadwell V-30i är en högeffektiv vertikal fleroperationsmaskin med 4- och 5-axliga rotationsbord. Maskinen har en hög kapacitet för borrning, fräsning, arborrning och skärning.
Det 4- och 5-axliga rotationsbordet ökar produktiviteten genom att tillåta mer bearbetning vid ett tillfälle. Det kan också användas för att ställa om V-serien till en 4-axlig konturskärmaskin, vilket ökar mångsidigheten.
Directly Coupled Servo Motors
LEADWELL uses only premium quality preloaded double-nut ball screws.
The heavy-duty spindle utilizes FAG, NSK or SKF bearings to allow heavy cutting.
LEADWELL uses high quality linear guide ways that feature zero clearance and fully-loaded carrying capacity in all directions.
This 4th & 5th axis rotary table option boosts productivity by allowing more machining with a single set-up.
LEADWELL's tool probe option measures both tool length and tool diameter.
The optional CTS includes an auxiliary high-pressure pump, which supplies high pressure coolant to the cutting edge.
X-Y-Z axis travel: 800/510/510+110 mm (drum, standard)
X-Y-Z axis travel: 800/510/610 mm (arm, opt.)
Spindle speed: 8000 rpm
Spindle motor: 11 kw
Table size (LxW) 890x500 mm
Tool storage capacity: 20/24